Loading images...
Nerds Can Dance Party
A theme party on 15th of March 2014 featuring Pornophonique
Pornophonique – Gameboy meets Lagerfeuer
Bitpop by two guys from Darmstadt: A fun combination of guitar and Gameboy sounds! Their album "8-bit bonfire" includes eight songs about sad robots, the loneliness in computer dungeons and other heart-breaking scenarios.

All songs are published with a Creative Commons-license and can be downloaded for free here. The album is also available as a vinyl version on CD for only € 15,00.
Band
Kai Richter: guitar, vocals, C64
Felix Heuser: Gameboy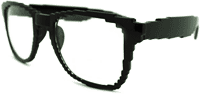 Partner event of science year 2014 – The Digital Society